The first physical contact a person has with your space is through your flooring, which is an important part of any interior design. This will be the foundation of your design and will ultimately influence its success. When building a home, one of the most important questions is what type of flooring to use to ensure style and durability. There are numerous flooring options for Indian homes, ranging from natural to synthetic. Here are some flooring options to consider.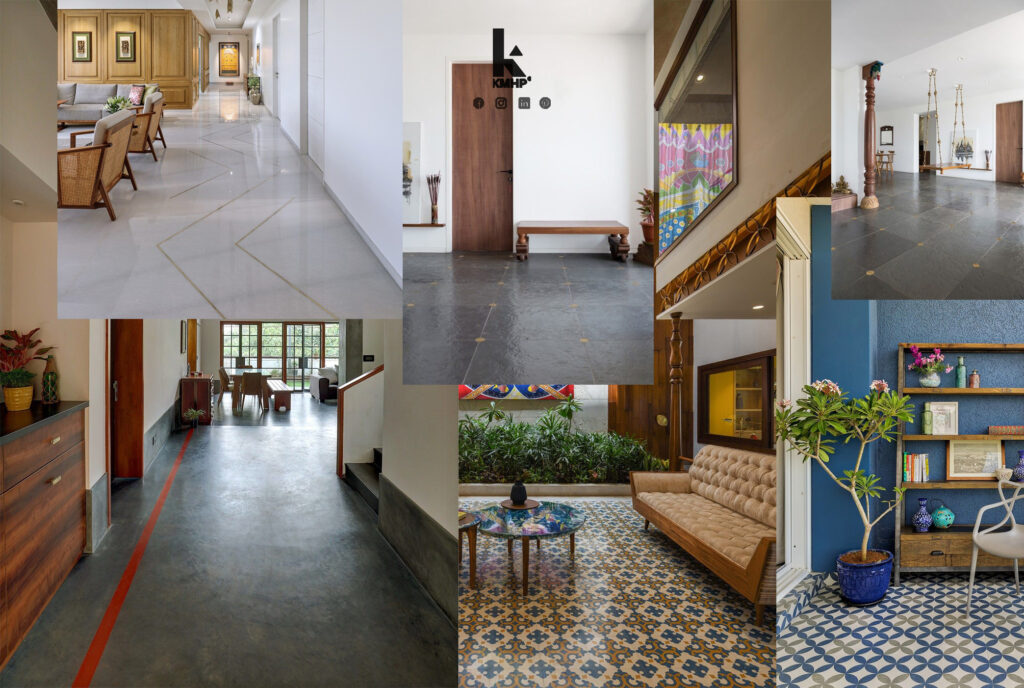 Marble
Indians prefer marble, which comes in a variety of colours and patterns. Its opulence and luxury are stunning in any setting. With proper care, the material is low-maintenance and highly porous, and it can last a lifetime. Because of its natural occurrence and luxury lifestyle aesthetics, installing marble flooring can be expensive. Grey, white, and pink are among the colours available for the flooring.
Natural Stone
In India, stones are commonly used for both indoor and outdoor flooring. Despite the limited colour options, they are inexpensive and can withstand heavy foot traffic. Natural stone is a popular flooring option in India because it lowers the temperature of the home in both hot and humid climates. It is an excellent choice for glamming up a room. Stone flooring is another popular choice for environmentally friendly flooring.
Wooden Laminate
Solid wood flooring is more expensive than wood laminate flooring. Despite its long history, it is becoming more popular in India due to its stain resistance. It is easy to instal and has a natural wood appearance. Wooden laminates are available in a variety of wood species, such as walnut, pine, and pecan. The only disadvantage of laminate flooring is that when wet, it can become slippery. This type of flooring is frequently used to create the appearance of a luxury home interior.
Vitrified Tile
One of the most popular and preferred flooring options in India is vitrified tile. This material is less expensive than stones and wood, and it is available in a variety of colours and finishes. Clay and other minerals baked at high temperatures, such as quartz, silica, and feldspar, are used to make it. Vitrified tile is used in both interior and exterior applications and is available in gloss, matte, and anti-skid finishes. These tiles are inexpensive, easy to instal, and long-lasting.
Vinyl
In kerala, vinyl is a trendy alternative to more expensive flooring options. Because of its PVC plastic construction, it is both durable and water resistant. This flooring is more resistant to moisture and traffic than tiles, and it is usually warmer and more comfortable to walk on with bare feet. It is also used as wall panelling in homes.
Granite
Many Indian households regard granite as a status symbol. It is one of the most expensive flooring options in India. Granite is a naturally occurring stone that can add a distinct level of sophistication to any space. The stone is simple to maintain and keeps the house cool. They are suitable for both indoor and outdoor use and can withstand inclement weather.
Mosaic
Mosaic flooring is made up of concrete chips embedded with granite and marble chips. It is easy to maintain, durable, and an excellent choice for daily use. The most significant benefit is the design options; they can be found with pre-set patterns of rectangular, square, or hexagonal shapes, and mosaic is as durable and waterproof as any flooring installation. One of Mosaic's disadvantages is the installation process. It is always preferable to hire a skilled flooring professional to complete the job.
Concrete
Concrete is one of the most durable types of flooring, and if installed and maintained properly, it can last as long as you own the home. Concrete, when used properly, can create some of the most elegant and colourful floors you've ever seen, thanks to its incredibly diverse design options.
Red Oxide
In India, oxide flooring is a traditional flooring option. Introduced in the southern part of India by Portuguese and Italian traders, this quickly spread throughout the country. Red oxide floors are the most popular flooring ideas for Indian homes because they are suitable for warm and tropical climates; they quickly gained immense popularity owing to their durable and cost-effective characteristics. They are simple to maintain and adored by even the most modern of homeowners for their elegant and timeless appearance.