Most homeowners start their interior design journey with the set idea that if they really like something, it must be expensive. But when it comes to interiors, good design is about being ingenious and not extravagant. And a qualified interior designer will know how to reduce interior design cost without compromising the quality of their work. We have enough examples of Livspace designers doing this rather successfully.
But How Do You Start?
Most homeowners splurge on certain things when setting up their home while they tend to be more budget cautious in other areas. But how do you know where to be careful? Talk to an interior designer! Tell them your budget, style, must-haves in a home and they will set up the perfect plan for you. They know best when it comes to cutting design costs. We also have two words for you: custom designs. This way you can have anything from the floor to the ceiling and everything in between tailored completely to your needs. Remember, there's always a way to get your dream interiors even on a budget.
How to Reduce Interior Design Cost #1: Pick wallpapers instead of paint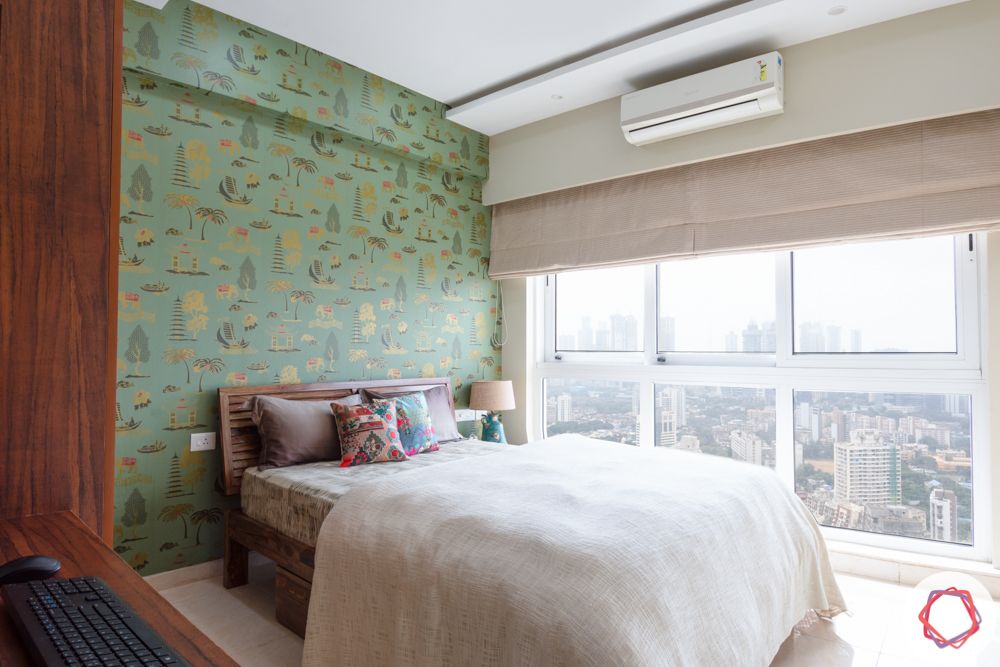 Looking to colour your walls without burning a hole in your pocket? While paint is a popular go-to option, our designers recommend homeowners to choose a wallpaper to give out the same visual treat at a much affordable rate. Like Aditya and Swati did for their Noida apartment. Our designers also suggest adding a wallpaper to an otherwise bare minimum or compact room for an easy peasy gorgeous look.
PRO TIP
Normal paint is cheaper than wallpaper. However, texture paint, which is typically used for feature walls, is much more expensive than wallpaper. Thus, this hack works only if you are looking to create accent walls

Gold-toned jaali dividing the entryway and living room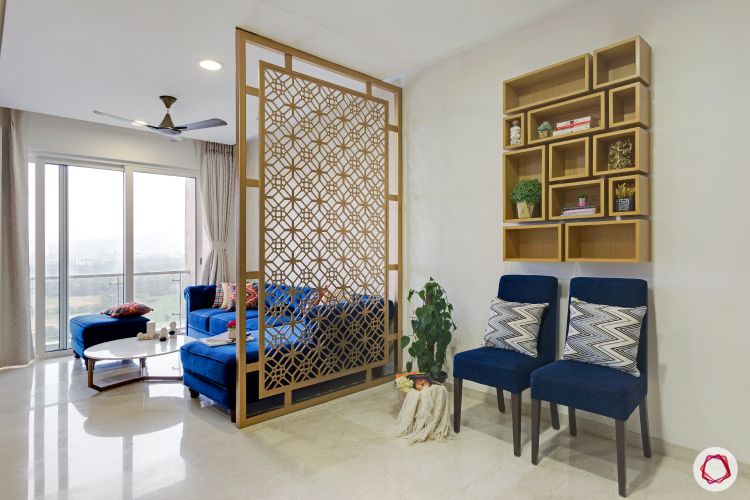 Open layouts, meet jaali. Since open layouts are extremely popular these days, people are searching for innovative ways to separate spaces without stretching their budget. Our designers suggest jaalis are a great way to bring in function and aesthetics together. When these can be used anywhere at home, you can use it as a divider between living and dining nooks like the Agarwal family did for revamped Noida home. You could even use a jaali to carve a foyer (if you don't have one) out of your living room.
How to Reduce Interior Design Cost#3: POP False Ceiling For Borders Instead Of A Full-fleged One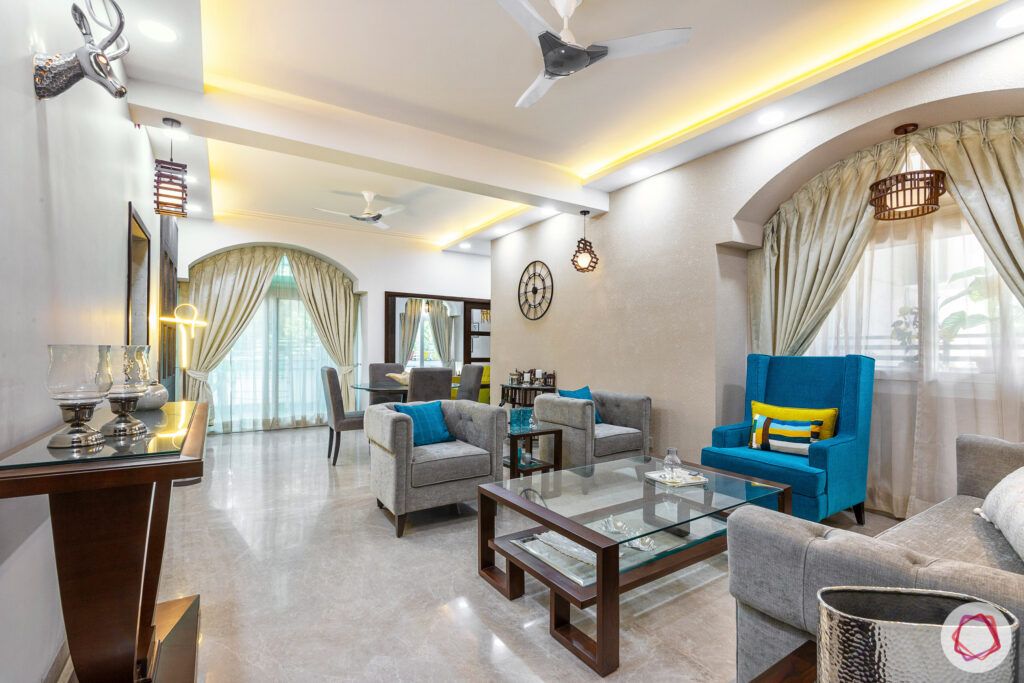 When in doubt, always turn to your ceiling for a bit of drama. Homeowners are opting to have false ceilings with fitted lights done to brighten their space and create an ambience, especially for the living and dining areas. While a wooden false ceiling might be tempting, Raajan Naano and his family opted for POP false ceiling othat can be called a peripheral and not a full-fledged one. They did this on the recommendation from our designer Guneet Murugan to keep the cost low. Notice how it's done only along the borders of the ceiling? 
How to Reduce Interior Design Cost #4: Buy wicker baskets for storage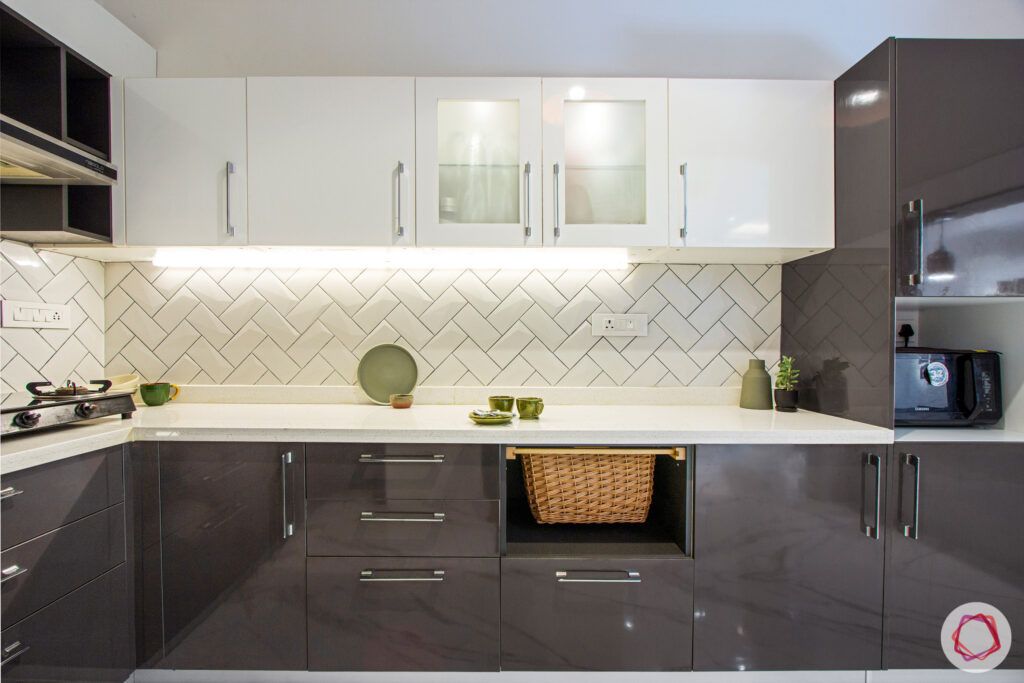 Looking for cost-effective storage options in the kitchen? Especially something that will break the monotony of drawers and cabinets? We hear you! Our designer Madhuri Jaju recommended Nausheer Ahmed Khan's family to use wicker baskets to store their dry veggies. These work perfectly work well to store your dry and daily essentials and will not break the bank. We also suggest to take a peek at our top 5 Kitchens Under ₹4 Lakhs for 2019.
How to Reduce Interior Design Cost #5: Paint MDF walls to look like exposed brick walls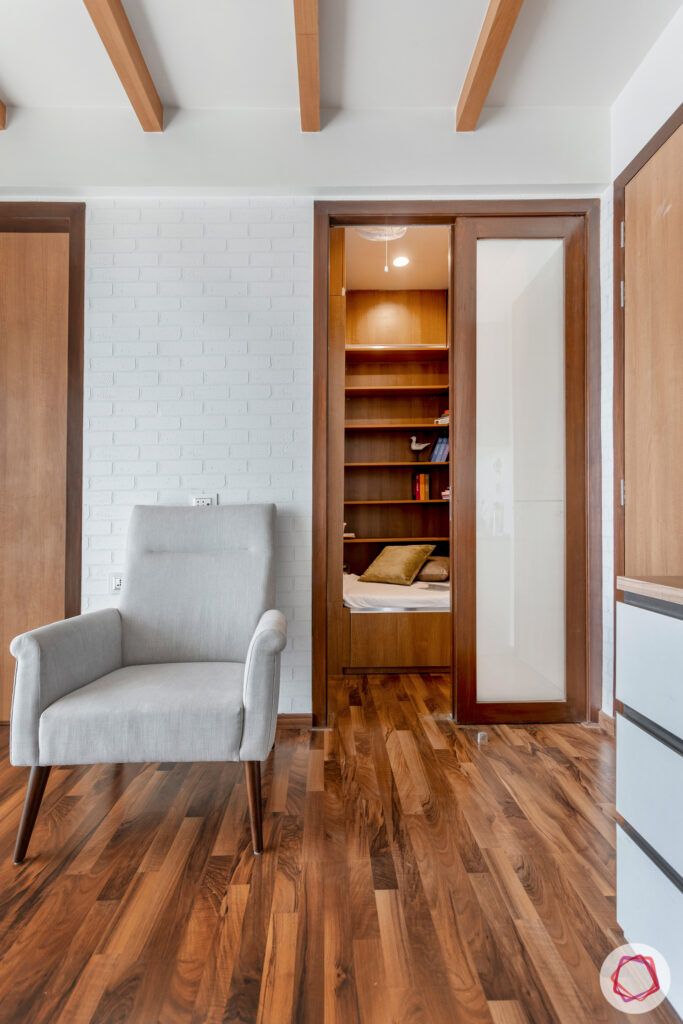 Exposed brick walls are an uber popular choice among homeowners these days. And why not? It looks chic and modern. So while Mumbai-based Pragnaya decided to get a full home design with plush interiors, she saved up on wall treatments thanks to her designer Rajvi Shah. She had MDF walls painted to look like expensive exposed brick walls. Want an even more affordable option? Choose a wallpaper!
How to Reduce Interior Design Cost #6: Opt for laminate wooden flooring instead of the real thing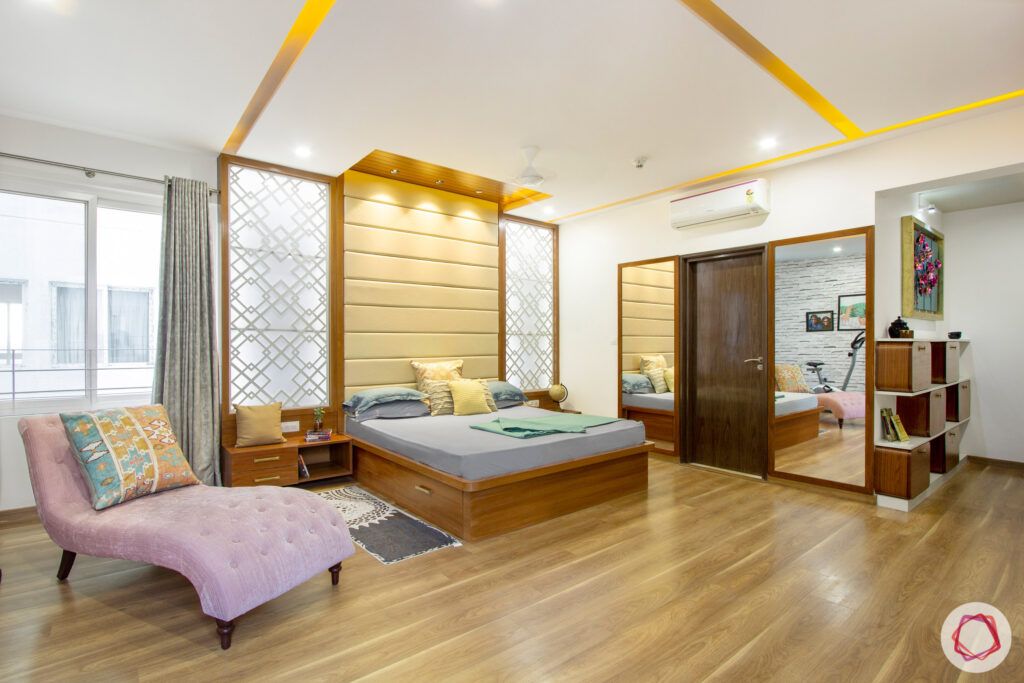 Here's the truth: real wooden flooring can seriously pinch your pocket. Moreover, it isn't a recommended choice of flooring in any Indian weather. Enter laminate! While laminate wooden flooring does look like the real deal, it's perfect for Indian seasons and is friendly on the budget. Just the trick Rohit & Ruchi Jain did for their home. You could also get these in different hues of wood too!
How to Reduce Interior Design Cost #7: Buy multi-functional furniture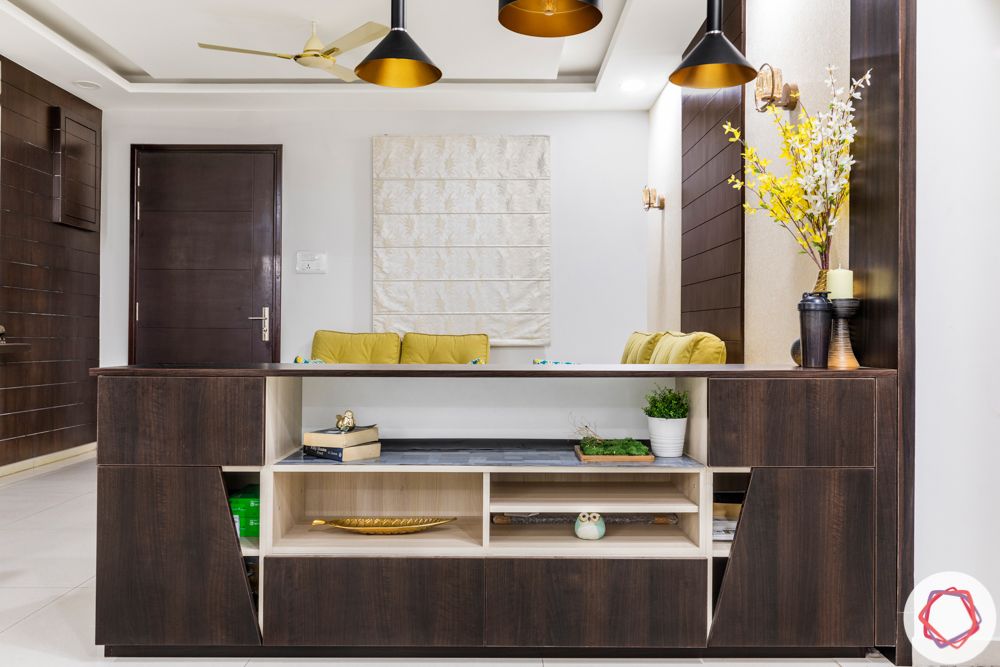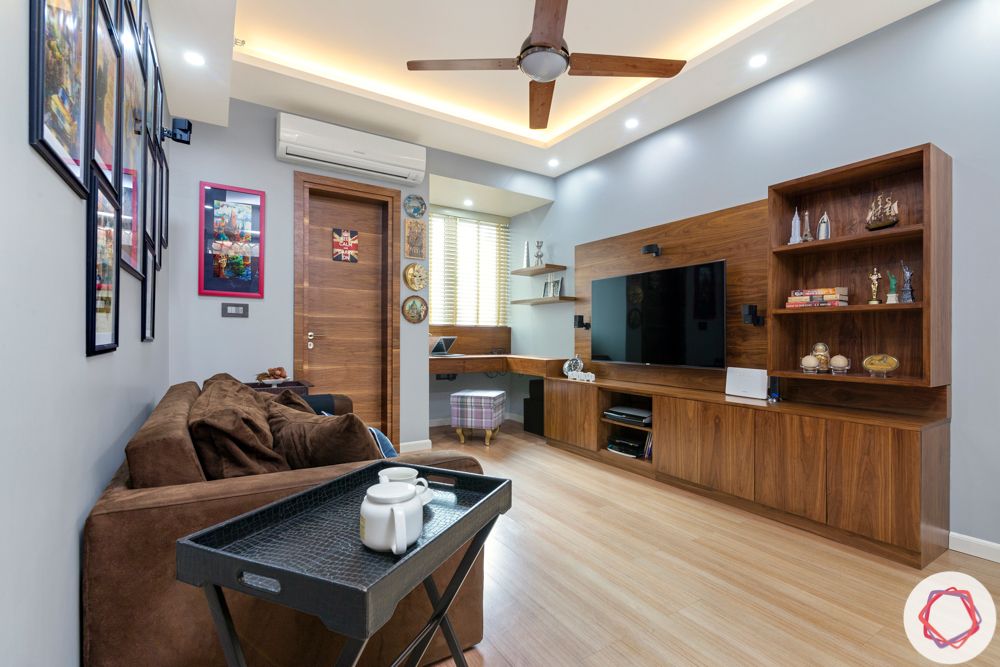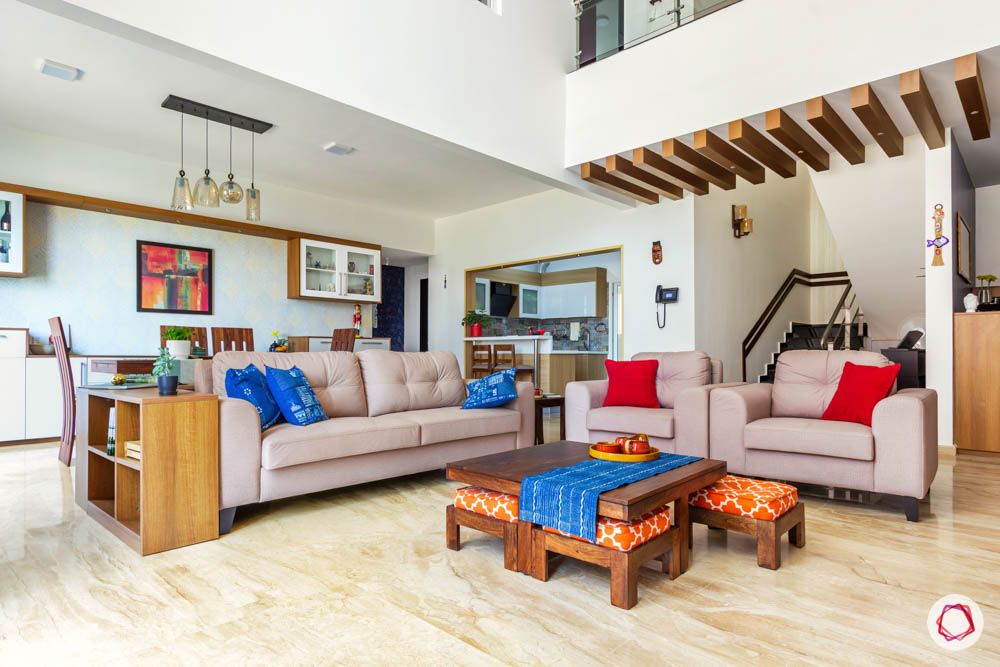 What's a greater design hack than multi-functional furniture? Homeowners love furniture that function in more ways than one, especially if you are looking to cut costs. Some of their all-time favourites are a coffee table with seating tucked under and room dividers that double as storage cabinets. Or in the Kapur's family's case, a custom TV unit that also works as a separate study unit. Our designers are equipped to craft custom furniture that is lasered to your personal requirements.
How to Reduce Interior Design Cost #8: Using A Mix Of Storage Modules To Create Integrated Furniture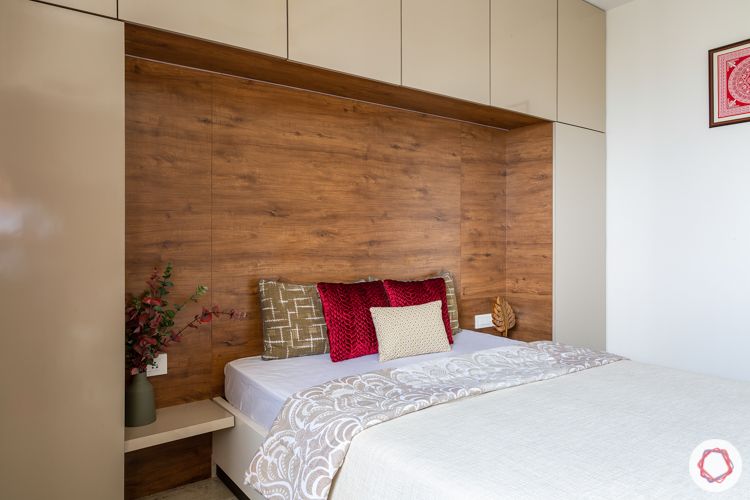 It is a well-known fact that integrated funrinite is expensive. However, you can get it for a good price if you think smart. This particular C-shaped storage unit in Meghna and Nikhil's 2BHK home in Mumbai was designed using modules from our Livspace catalogue. So even though the piece has a customised look, it is an amalgamation of different types of pre-designed storage modules!
Enjoyed reading this? You might want to read Mumbai Designers Spill Best Kept Secrets too.
Send in your comments & suggestions.