One of the most important decisions you'll ever make is the foundation of your home. After all, the foundation plays a critical role in keeping your home in place even if the ground shifting beneath it, even if your home is built on a slope with a 45-degree inclination. The foundation also maintains the stability of the house and keeps moisture out. The location, climate, soil, and humidity of the home, as well as the available budget, all influence the foundations that are chosen by builders.
This foundation method begins with a hole, at least eight feet deep to allow a subterranean living room with floor space that equals most or all of the ground level of the property. The structural foundation walls will be built on concrete footings that run around the perimeter of the basement. Footings must be installed at least 12 inches below previously undisturbed soil and 12 inches below the frost line. After that, you'll pour beams, build foundation walls, and pour a cement slab inside the walls.
A basement is the most expensive foundation type, and unless you build a daylight basement—a basement built on a slope with at least one side open to the sun—the area formed by this type of foundation might appear cave-like due to a lack of natural light. If you live in a flood-prone location, it is not a good idea to build a basement. Even if you live in a low-risk location, experts advocate installing
appropriate equipment such as a sump pump.
Since the base of the house must be situated below the frost line in order to prevent the structure from shifting during freeze and thaw cycles, they are frequently encountered in cold climate zones. They could receive the same heating or cooling as the rest of the house.
The foundations of buildings with crawlspaces are formed by short foundation walls on concrete footings, often known as stem walls. They create a place that is exactly what it sounds like a slightly raised space beneath a home through which you may crawl, frequently with enough room for storage, a furnace, and other equipment.
Crawlspace foundations provide the key benefit of protecting the house. The walls of the home are shielded from flooding and other environmental dangers by raising the base of the structure. The area makes it simple to access the mechanical systems, including the wiring and piping. Additionally, elevating a house's base may lift the entire structure, making it more visually beautiful. Additionally, it is less costly than digging a complete basement. These foundations are most frequent in warmer regions. They're also a popular choice among architects planning homes in earthquake-prone areas.
A slab foundation is also known by the names mono-slab or monolithic foundation. In this method a flat concrete slab that rests on the ground and is poured in one single piece. The main advantage of a monolithic foundation is that they are less expensive and quicker to construct. It's installing is actually a straightforward procedure. Around the slab's edge, a beam sunk in concrete that is about two feet deep is surrounded by wire mesh and steel reinforcing bars. Crawl spaces are not present in structures that are built on slabs, so homeowners won't have to worry about the upkeep problems they might bring.
Wood may seem like an odd material for a foundation, but in the 1960s, it gained popularity. Cyprus wood beams have been discovered in Egyptian pyramids that are over 6,000 years old by archaeologists. Preservative-treated wood that is easy to install and resistant to decay will be used by builders. Wood foundations are easier to build quickly and affordably since they don't involve labor-intensive masonry work or concrete pouring.
Contractors can insulate these foundations to make the crawlspace warmer and the house less draughty. Woods like cypress, redwood, and cedar are resistant to mildew and insects, the timber business has developed methods of treating cheaper lumber to give it those qualities. They can only be used in absolutely dry soil, though, and they might not survive as long as concrete foundations.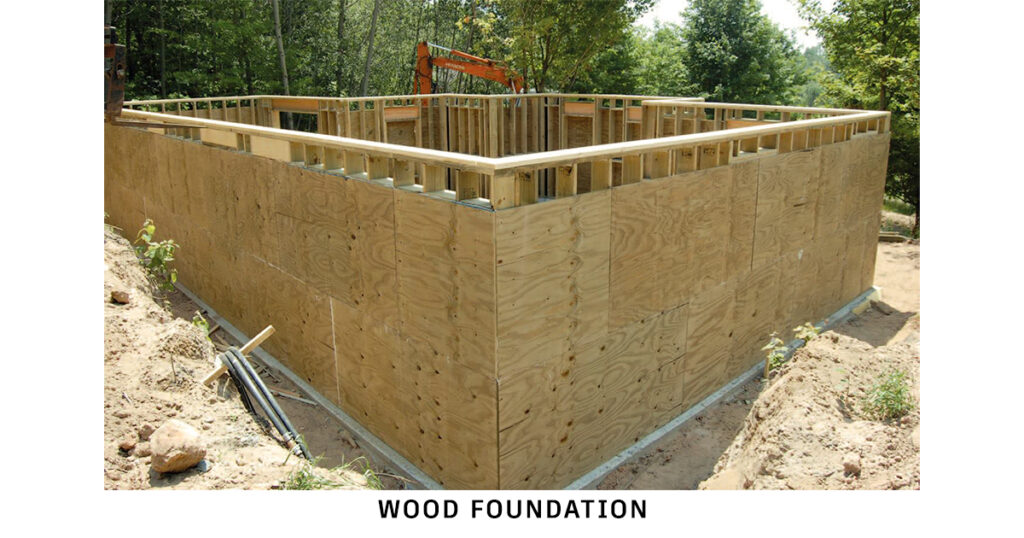 The pier and beam foundations also known as "piers and pile" or "pier and post" foundations. Building a pier and beam foundation is the greatest technique to secure a house atop soil that is continuously changing, flooding, or eroding in coastal environments. They are also found in places that are vulnerable to hurricanes or significant flooding.
By anchoring lengthy pillars—often over 15 yards long to reach firm ground—into the thickest strata of stone and earth, they function similarly to an ocean pier. Because the pillars distribute the weight of the building across a vast area, they are used by builders to support bigger structures to prevent sinking.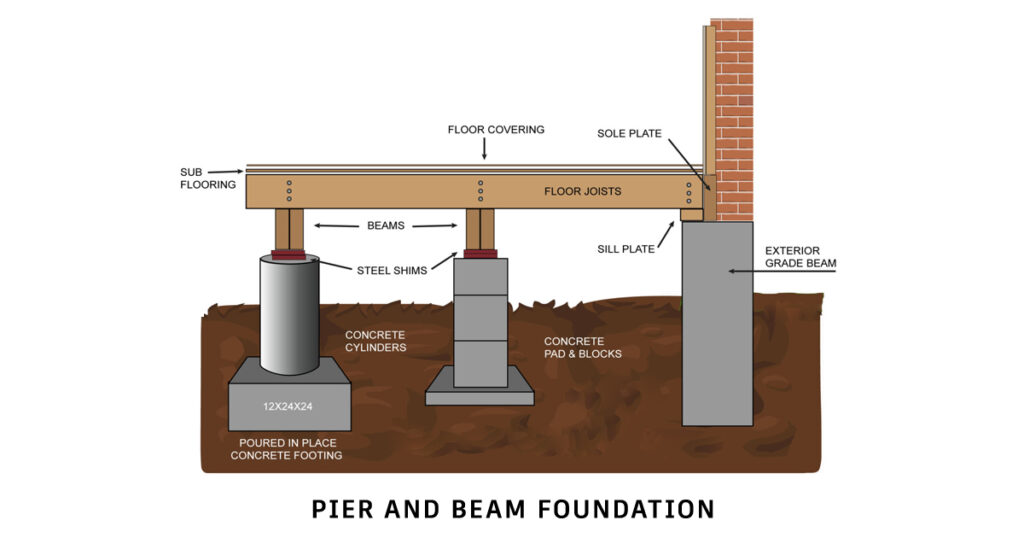 Editor: Jubin Raju Mathew